Editorial Note: We earn a commission from partner links on Doughroller. Commissions do not affect our authors' or editors' opinions or evaluations. Learn more here.
Improving your credit score and profile is an important part of achieving financial health. With an excellent credit score, you can be approved for the best credit cards, mortgages with the lowest rates, and auto loans at low to no interest. Without one, you'll find yourself spending tens if not hundreds of thousands of dollars in higher interest over the course of time.
The Build Card from Current is a "credit card" that helps improve your credit score while also offering a variety of other interesting functions. I put credit card in quotes because while the card builds credit and has no required security deposit it also acts like a charge card, acts like a secured credit card, and does not have a fixed credit limit.
In The Build Card Review from Current, we're going to dissect the different features and perks this card offers and let you know whether or not this card is one you should keep in your wallet.
How Does The Build Card Work?
When you open The Build Card, you'll be using one card for all of your spending while also having the ability to save using spending "pods". After making a purchase on the build card, you'll begin to see a transaction history. Current labels these charges as credit card charges so when you make your monthly payment, the positive history will be reported to TransUnion.
For example, let's say you have $600 in your connected bank account. Today you decide to go to the grocery store and spend $125 using The Build Card. When you return home, you'll see the charge in your build card account and you'll also still see $600 in your connected bank account. Transactions can accumulate up to the amount you have available.
Each month, you will make a payment to cover the cost of your purchases and can set up an automatic payment to ensure you never miss a month's bill.
When you see it in action, the process looks an awful lot like how a secured charge card. With a secured card, the bank allows you to pay only a portion of your balance, risking high interest costs over time. With The Build Card, you cover your purchases with money already deposited in your connected savings or checking account, never having to worry about paying interest.
Overdraft protection is also included so that if you make a mistake and overcharge using The Build Card, you will be protected from high fees to cover the overdraft. This is all a clever way to allow users with poor to no credit access to a "credit" product to improve their credit score.
The Build Card from Current Features
With The Build Card, you'll be able to use a credit card to make everyday purchases while improving your credit. When using this card, your history is reported to TransUnion, one of the three major credit bureaus. Over time, the idea is that a positive payment history with Current will improve your credit score.
Connect your bank account to The Build Card and match the purchasing power you would normally have with your debit card. Each month, you'll be required to pay all the purchases you've made with The Build Card in full, so no interest is carried over Current allows you to set up automatic payments which can ensure you'll never miss a payment to your Build Card account so your credit profile and history remain positive as long as you're a Current user.
Right now, Current offers users a 4.00% Annual Percentage Yield APY on their savings but only for up to a maximum of $6,000. After that, a 0.25% Annual Percentage Yield (APY) is earned on your deposits.
In order to receive this interest, you have to do two things. The first is to set up a direct deposit of at least $200 each month. If you have a job, that should be pretty easy. The second is to create savings "pods". Each account is allowed to have up to 3 pods, and each pod can hold $2,000 to maximize your APY return.
You might consider this a bit of a hassle but keeping different pods allows you to save for different things. One might hold money for an emergency fund, while another is being saved for a vacation. Through the app, you can easily manage these pods and keep an eye on whether or not you've reached your goals. FDIC insurance is provided up to the standard $250,000 limit.
The Build Card Pricing and Fees
The biggest thing Current has going for it is that it's almost entirely fee-free. You won't be charged an account maintenance fee, monthly fees, annual fees, interest fees, or overdraft fees. And I can honestly say having done this for almost 20 years, I've never seen as short a fee disclosure page as I do with Current.
These are the fees you will pay when using The Build Card from Current:
Out of Network ATM Usage Fee – $2.50 per transaction
Foreign Transaction Fee – 3% (minimum $0.50)
Late Payment Fee – 3% of any total balance
It is disappointing that Current does not refund outside of network ATM fees but it's also not uncommon. The foreign transaction fee and late payment fee are also common among most credit and debit card products so there's nothing surprising or out of the ordinary here.
When looking at other products that offer credit-building tools, you'll find Current is easily the least expensive. This really comes in handy when if you want to take a break from using The Build Card as you won't rack up fees letting the card idle.
How to Sign Up for The Build Card from Current
All you need to do in order to sign up is to enter your phone number and Current will text you a download link. Once you have that, you can connect your bank account. You'll need your bank routing and account numbers, as well as identifying information. You will also need to provide your Social Security number and may be required to upload a copy of your driver's license or passport.
After you receive The Build Card, you're ready to go. Current is only available to U.S. residents.
Security
Current uses bank-level encryption and the card comes with an EMV chip to further protect the card's information. It's also possible to lock the card if you think it's been lost or stolen. If you get the card back, you can unlock it. You also get access to Visa's fraud liability protection.
Finally, you can set up an account to receive spending notifications. It's possible for you to set limits, and there are no overdrafts so you won't be able to over-spend.
Mobile Support
You can download Current's app on your iPhone or Android phone. The app is intuitive and easy to use. You can track spending, monitor all transactions that occur, and track progress toward your goals all from the app. This makes it easy to visualize your money, so you can learn how to make better financial decisions.
On the crypto side, you'll be able to see your current coin and token portfolio, look at recent crypto trend charts, and easily buy and sell coins and tokens from your account.
Customer Service
To reach someone, you send a request via the contact form on the website or on the mobile app. You enter your details and someone will contact you. There is a help center with searchable topics. There you'll find a number of helpful articles that might answer your questions without the need for you to send an email request.
Unfortunately, Current does not have a support phone number at this time.
Current Crypto
Inside the Current app, you'll have the ability to buy and sell dozens of crypto coins and tokens. The minimum amount to buy is just $1 and Current does not charge a fee for the transactions.
The downside here is that Current does not offer a crypto wallet. Unfortunately, this means that you will not be able to transfer your coins anywhere else, so they must stay with Current. After buying cryptocurrency using Current, the only options would be to sell it and turn it back into cash.
The Build Card from Current Pros and Cons
Pros
No monthly fees, annual fees, interest fees, or overdraft fees
An intuitive mobile app that allows you to control multiple products
4.00% Annual Percentage Yield (APY) on savings (for up to $6,000 in deposits)
Multiple other products that remain fee-free
Cons
Only reports to one credit bureau (TransUnion)
No ATM fee reimbursement
The Build Card Alternatives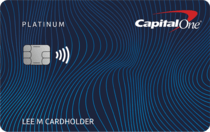 The card_name is the best secured credit card on the market today. There's no annual fee to own and it reports to all three credit bureaus regularly. So long as you make your payments on time, every time, you can expect your credit score to improve. An initial deposit is required and the amount you deposit will determine your credit line.
One of the big advantages of the Capital One Platinum Secured Credit Card is that after six straight months of on-time payments, you'll automatically be considered for an unsecured credit card from Capital One. Make sure when using this card that you pay your balance in full every month, as you're everyday purchase APR is 30.49% variable.
The Chime Credit Builder Card acts similarly to The Build Card. There are no monthly or annual fees, no interest charged, and no minimum security deposit required. You'll have access to a Chime debit card account where you can spend money and earn rewards on everyday purchases. Setting up direct deposit means you'll be paid up to 2 days early.
The two primary differences between the Chime and Current are:
Chime reports to all three major credit bureaus and Current only reports to TransUnion
Chime offers a 2.00% APY on its savings platform and Current offers a 4.00% Annual Percentage Yield (APY).
Read our Chime Credit Builder Review
Is The Build Card from Current Right for You?
The primary function of The Build Card is to improve your credit. Having a card that acts like a credit card and does not charge a monthly fee, annual fee, or interest rate is pretty awesome. Less awesome however is that your good behavior will only be reported to one credit bureau (Transunion) so it may take longer to see an improved credit score.
When you factor in an interesting savings program with a high-interest APY account, a crypto investment platform, and an overall fee-free structure, Current is a perfect place to casually improve your credit, manage your savings and dabble in crypto. But if you're someone who needs a sharp improvement in your score in a short period of time, I believe there are other products that yield faster results.