Editorial Note: We earn a commission from partner links on Doughroller. Commissions do not affect our authors' or editors' opinions or evaluations. Learn more here.
In response to an article about free and low-cost prepaid cards, a reader asked about building credit with a prepaid credit card: "Is using a Prepaid Credit Card a way to build a credit history for someone who doesn't have one?"
This is a great question and underscores how confusing the different types of credit and debit cards can be. The short answer is that prepaid debit cards cannot help you build your credit history. And no prepaid card helps build your FICO score. We'll sort through all the different types of credit, debit, and prepaid cards, and how each generally can affect your credit score and credit history. But first, let's take a look at some of the best credit cards (not prepaid) that can help you build credit.
DEAL OF THE DAY – For a limited time, earn a $300 cash bonus when you open a TD Bank Beyond Checking Account. New customers only – requires a $2,500 direct deposit within the first 60 days. Ends 12.31.2023
Capital One Platinum Secured Credit Card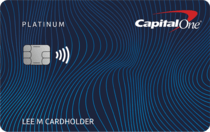 The card_name is designed for those looking to rebuild their credit. Capital One reports your payments to each of the 3 major credit agencies. In addition, Capital One gives you free access to your credit score and tools to help you manage and track your progress. The annual fee is $0 but you'll need a security deposit of $49, $99, $200.
Prepaid Cards that Build Credit
Let's start by reviewing the types of credit and debit cards:
Credit Cards: Credit cards like Chase, or Citi represent a loan each time you use your card. Because you are borrowing money, your account is reported to the major credit bureaus. As a result, using a credit card will impact your credit score.
Debit Cards: Debit cards are issued by banks and generally are tied to a checking account. While debit cards today look like credit cards, including the Visa or MasterCard brand, they are more akin to writing a check. When you use a debit card, the cost of the transaction is taken out of your checking account. As a result, debit cards do not help you build credit.
Prepaid Cards: Prepaid cards are very similar to debit cards, except that they are not linked to a bank checking account. Instead, you transfer money to the card (via direct deposit, online, at certain stores, etc.) and then can use the card anywhere that accepts Visa or MasterCard. While these cards are sometimes referred to as prepaid credit cards or prepaid debit cards, they are really just prepaid cards. Because you can only spend the money you have already added to the card, prepaid cards do not represent a loan like a credit card. As a result, prepaid cards generally do not help you build your credit.
Related: Why are Millennials Using Prepaid Credit Cards?
Are Prepaid Cards a Good Way to Build Credit
While you can monitor your credit with some prepaid cards, as noted above, you won't be affecting your FICO credit score by using a prepaid card. Low-cost prepaid cards are a safe, convenient way to manage money for those that want to avoid credit and are unable to qualify for a checking account (usually because of Chexsystems). But don't count on an increase in your credit score from a prepaid card.
There are other alternatives. For example, you may be able to qualify for a store credit card (e.g., Sears or Home Depot). By making a few purchases each month for items you'd buy anyway and paying off the balance in full each month, you'd build your credit at no cost. Of course, the risk with credit is that you'll spend more than you should and find yourself in debt at double-digit interest rates. But if you can manage your credit well, you can build a credit history and improve your credit score at no cost.
Alternatives
Petal 1 isn't your average, everyday credit card. Rather than make an application decision based on your credit score and credit history, Petal® 1 "No Annual Fee" Visa® Credit Card—issued by WebBank, Member FDIC—reviews your banking history to create a Cash Score. This shows the bank your creditworthiness, allowing them to offer you competitive credit and rates.
After you apply for the Petal® 1 "No Annual Fee" Visa® Credit Card, you'll receive an instant decision. If you're approved, you'll then learn more about your credit limit and interest rate. The credit limit range is $300 to $5,000.
Other features of the Petal® 1 "No Annual Fee" Visa® Credit Card include:
Between 2% to 10% cash back at select merchants
No annual fee
No international fees
Autopay
Read more: Petal® 1 "No Annual Fee" Visa® Credit Card Review
Self is a unique company that offers to help you build your credit score. Instead of applying for a credit card which has high fees or a high interest rate, Self has created a way for you to increase your credit score through a self funded loan.
After you've applied for your loan and selected a payment option, you'll be on the path to building your credit. If you already have a lot of high interest credit card debt hurting your credit score, you can lower your utilization rate by paying it off using a 0% APR balance transfer credit card. This could save you hundreds and increase your credit score, too.
Once you've completed your payments, the entire principal is returned to you minus the interest rate.
Related: Self Review
For example, if you take out a $525 loan on repayment terms of 2 years; the interest rate is 13.16%. This means that over the two year period you pay your loan back, you'll pay back a total of $609; $525 in principal and $84 in interest.
Initial loan activation fee of $9, $12 or $15
No repayment penalty. Pay your loan off at any time.
Four different loan options ($525, $545, $1,000, $1,700)
All funds are FDIC insured.
Quick Links: Here is one of our favorite cards that can help you build credit:
Related: If you're looking for an easy way to increase your score, sign up for Experian Boost™. This service is free and can see when you make your monthly payments like your utility bill and cell phone bill on time. When you do, your FICO Score can get a boost.
Learn More: Read our Experian Boost™ Review
If you've used a prepaid card to build credit, please leave a comment and let us know how it worked out for you.
Related: