Editorial Note: We earn a commission from partner links on Doughroller. Commissions do not affect our authors' or editors' opinions or evaluations. Learn more here.
Let's say you want to travel but don't want to shell out hundreds for plane tickets. What can you do? With rising airline rates and soaring inflation, the plane ride to your destination could easily be the most expensive part of your trip. You don't want to miss out on that trip because you didn't have the budget for a flight ticket. If you're smart about it and start planning a little, there are plenty of options for getting free flights.
Some ideas on this list for earning free flights might apply to your situation, while others may seem a bit unorthodox. The good news is that there's an option for everyone looking for free flights on this list.
How To Get Free Flights
As travel hacking becomes more popular, many new ways to earn free flights are popping up. I've gone through every possible option and vetted them out so that you can find at least one way to land a free flight in the near future.
1. Leverage Credit Card Sign-up Offers
Nowadays, many travel credit cards offer killer sign-up offers – some of which can even get you a free flight from the start. One word of caution, however, is that applying for new credit cards will show up as a hard pull on your credit report, thereby decreasing your FICO score. So be strategic about how and when you apply for these cards. Don't apply for a bunch of them at once.
Related: 7 Top Travel Rewards Credit Cards
Here are two of my favorites for sign-up bonuses:
Capital One Venture Rewards Credit Card
One of the best deals you can get right now is with the card_name. I personally use this credit card as my everyday card, then pay it off in full at the end of the month. In the last couple of years, I've accumulated thousands of dollars in travel just based on the rewards structure.
2 Miles per dollar on every purchase, every day. 5 Miles per dollar on hotels and rental cars booked through Capital One Travel.
This card comes with a $95 annual fee. However, the one-time bonus will make the annual fee worth it.
Enjoy a one-time bonus of 75,000 Miles once you spend $4,000 on purchases within 3 months from account opening
Delta SkyMiles® Gold American Express Card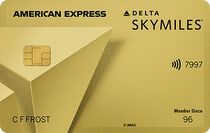 If you like flying with Delta, the card_name is another attractive option to look at. The key to hacking new credit card sign-up offers is to choose a credit card you haven't had recently, so you'll be eligible for the bonus offer. Then, track your spending so that you can meet the spending requirements to earn the bonus miles.
Earn 40,000 bonus miles after you spend $2,000 in purchases on your new Card in your first 6 months.
Earn 2X Miles on Delta purchases, at U.S. Supermarkets and at restaurants worldwide, including takeout and delivery in the U.S. Earn 1X Mile on all other eligible purchases.
Perhaps the coolest feature is that your first bag is checked for free for you and up to eight others on your travel reservation. The annual fee is .
2. Use Everyday Credit Card Rewards
Those sign-up offers are tempting, but the best way to keep earning free flights over time is to sign up for a rewards credit card that offers great miles for everyday spending. When you find a credit card that offers good mileage bonuses, use it for your everyday spending, pay it off, and reap the rewards for free flights.
If you do plan to use a credit card for your everyday spending as I do, I have a couple of great options for you to consider:
British Airways Visa Signature® Card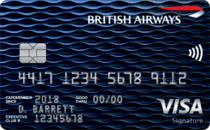 One of my favorites for someone who a) puts all their purchases on one credit card and b) loves to travel with British Airways is the card_name. This card is one of the best for everyday purchases because of the rewards structure (the sign-up bonus isn't bad either!).
Earn 75,000 Avios after you spend $5,000 on purchases within the first three months of account opening.
Earn 3 Avios per $1 spent on purchases with Iberia, British Airways, Aer Lingus, and LEVEL. Earn 2 Avios per $1 spent on hotel accommodations when purchased directly with the hotel. Plus, earn 1 Avios per $1 spent on all other purchases.
The Platinum Card® from American Express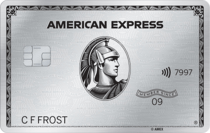 If you have excellent credit and travel a lot, card_name might be for you. Know upfront, though, that it comes with a large annual fee ($695) and is considered a charge card, so you'll have to pay it off every month. If you can handle that, read on.
Earn 80,000 Membership Rewards® Points after you spend $8,000 on purchases on your new Card in your first 6 months of Card Membership.
Earn 5X Membership Rewards® Points for flights booked directly with airlines or with American Express Travel up to $500,000 on these purchases per calendar year and earn 5X Membership Rewards® Points on prepaid hotels booked with American Express Travel.
Then there are the bonuses. You'll receive up to $200 in Uber rides each year ($15/month), up to a $200 airline fee credit (for checked bags, etc.), and access to the AMEX Global Lounge collection for you and your guests to utilize prior to your flight.
The Platinum Card® from American Express has also added one additional neat perk; a $100 statement credit to Saks Fifth Avenue annually (enrollment required).
3. Check Out Frequent Flier Programs
If you're looking for free flights, you will want to check out frequent flier programs. If you already fly frequently, frequent flier programs are your best friend, especially if you try to fly only with those airlines because you'll earn free flights quicker.
Here are some of the best frequent flier programs to join for free flights:
Alaska Airlines Mileage Plan
You won't find Alaska Airlines hubs everywhere, but if you're on the west coast, you most likely have already flown with them. Alaska Airlines is prominent in the pacific northwest, but you'll also find hubs in New York, Atlanta, and other major cities. Their mileage plan allows you to earn miles by flying with Alaska Airlines, Virgin America, and 18 of their partner airlines, which include American Airlines and British Airways. You can earn free flights relatively faster here since you earn a mile for every mile you fly with Alaska. Click here for more details on the program.
Delta SkyMiles
Another fantastic mileage program if you want to earn a free flight is the Delta SkyMiles program. Delta has more than 4,000 flights that take off every day, so there are plenty of opportunities to book a flight with them. In addition, Delta goes to over 330 destinations across more than 60 countries daily as well. So you shouldn't have any trouble finding a flight.
You'll earn miles by flying with over 20 partner airlines, along with Delta, and you can use the miles on flights, seat upgrades, and hotels. Another great feature is that your miles will never expire with Delta. Plus, you can sign up for the Gold Delta SkyMiles Credit Card from American Express I mentioned above to increase your earnings rate. Click here for more details on the program.
4. Consider Dining Rewards Programs
Many frequent flier programs let you earn miles when you dine at certain restaurants to earn free flights from eating. Most of these programs are straightforward. You link your card, and you'll earn miles when you dine out at participating restaurants. Some programs will even give you a sign-up bonus like rewards credit cards do, giving you a lump sum of points or an accelerated earning rate for a short period. A word of advice: some programs have limitations, including days, times, and locations for earning points. Make sure you review the dinner rewards with the best credit cards for free flights to take advantage of this opportunity.
Here are some programs that offer dining rewards:
Southwest Airlines
With the Southwest dining program, you can earn 3 miles per dollar spent on dining out, as long as you remain subscribed to email updates. If you opt out of email communication, you will earn 1 point per $2 spent on eating out at participating restaurants. You can earn 10 points for every restaurant review submitted.
As a new Rapid Reward Dining member, you will also get a 1,000 bonus point offer with a dine of at least $25 within 30 days of joining and a completed restaurant review within your first month. Members will earn an additional 500 bonus point offer after earning their first 1,500 points through any mix of dining and review writing. Members will then earn 300 bonus points for every additional 1,000 points earned through any combination of dines and reviews.
American Airlines
You can earn up to 5 miles per dollar on dining out at participating restaurants with the AAdvantage dining program. Your earning rates come in tiers, with the lowest being a measly 1 mile per $1 spent. The program offers a welcome bonus so that you can work towards earning that free flight right out of the gate. The limited-time offer allows you to earn 1,000 bonus miles if you spend $25 or more within your first 30 days of creating an account.
Delta
With Delta's dining rewards program, you'll earn up to 5 miles per dollar spent and a 1,000 SkyMiles bonus for signing up. The lowest-earning tier gets 1 mile per $2 spent, like American Airlines, but your rewards and bonuses increase the more often you dine out during the month. If you book a Delta flight, you can get 5 miles for each $1 spent that you could use towards earning a free flight. You can also earn 1 mile for every $1 spent at participating Starbucks, so that morning caffeine fix can help you earn a free flight. When you achieve Medallion Status, you can earn up 11 miles per $1 spent.
Don't forget to accelerate your earnings with the Delta SkyMiles® Gold American Express Card. It's also worth noting that all SkyMiles members will be eligible to use miles for checked baggage fees on domestic flights as of October 2022. As of early 2023, you can also use your miles toward international Delta flights.
JetBlue
JetBlue doesn't give you a sign-up bonus for their dining rewards program and gives you dining rewards based on your reward member status. If you're a TrueBlue member, you'll earn 1 point per dollar, whereas Mosaic members will get 2 points per dollar spent. TrueBlue Dining members can also earn 3 points for every $1 spent at qualifying restaurants, bars, and clubs.
Alaska Airlines
With Alaska Airlines dining rewards program, you can get up to 5 miles per dollar spent on dining out. Like other programs, you'll be separated into tiers based on how much you've spent, and the lowest tier gives 1 mile per $2 spent. Alaska Airlines will, however, give you 1,000 bonus miles for signing up and spending $30 within your first 30 days.
United
With United's dining rewards, you can earn up to 5 miles per dollar spent (also a tiered program). Like most other programs, the lowest tier earns 1 mile per $2 spent. Pair this program with a card like the United TravelBank Card, and you'll be earning rewards with United faster than ever.
United does give you a sign-up bonus that can help you earn free flights quicker when you join MileagePlus Dining. You can earn 1,500 points for your first dine if you spend $25 within your first 30 days and leave a review for that restaurant.
5. Opt for Programs with Companion Tickets
One great way to earn free flights for family travel is to sign up for credit cards and programs that offer free companion tickets. Of course, you'll have to pay for the first ticket, but the second one is free – except for some small taxes and fees. This is becoming an increasingly rare option for earning free flights, but if you can find an airline that offers companion tickets, we urge you to take advantage of this.
For example, the British Airways Visa Signature® Card does this for its cardholders. If you spend at least $30,000 in a calendar year (excluding refunds and returns), you'll get what's called a Travel Together Ticket that's good for two years. You can also choose to pay 50% of your airfare if you're flying solo. The companion ticket only has to cover the taxes, fees, and any carrier charges. If you think that spending $30,000 a year seems like a daunting way to earn free flights, it's not that difficult if you automate your bills to your credit card.
This is a free plane ticket for someone else to fly with you, and it expires two years after its issued. Remember, this is just a bonus in addition to your other points.
Southwest Airlines has the most popular credit cards for companion tickets. They offer the Companion Pass as a benefit that lets you choose one person who can travel with you free of any airline charges (not including taxes and fees).
To qualify for this Companion Pass, you have to fly 100 qualifying one-way flights or earn 125,00 qualifying points in the same calendar year.
6. Look for Free Tickets from the Financial World
Free airline tickets are quite a popular item for financial firms to give away these days. American Airlines is probably the best example of this, offering miles for all kinds of financial products that you may have needed anyway. Here's a list of financial companies they partner with:
American HomeMiles – Register and earn bonus miles for buying and selling your home and paying for movers. The more you sell your house for, or the more you buy one for, the more miles you'll earn. Moving is a flat rate earned.
BankDirect – Sign up with BankDirect, a division of Texas Capital Bank, and you'll earn miles on pretty much all of your banking activity. This includes opening new accounts, monthly offers based on your activity, and bonus miles for opening a CD.
Betterment – You could earn bonus miles in the past based on the amount you invested with Betterment.
The point here is that you should always do some research to see if your mileage program or credit card issuer is offering any bonus miles for signing up for financial products you were going to use anyway. These free points could be used towards earning free flights.
7. Ask for Frequent Flier Miles as a Gift
One of the easiest ways to earn flights is to ask for frequent flier miles as a gift. This year when mom asks what you want for Christmas, don't ask for a Starbucks card that you may forget about. Instead, ask for some of her frequent flier miles. Most frequent flier and some credit card rewards programs will let an account holder transfer miles directly to another account holder. In fact, American Airlines, Delta, and Southwest all have information online about how to give – or gift – miles.
In other cases, the miles holder could just use miles to buy a ticket for a specific trip, putting it in your name. Sometimes, this is actually the smoothest way to get miles as a gift since you don't have to mess with transfer fees. For a new thought on wedding gift ideas, Lori Zaino of The Points Guy wrote an informative article about giving miles as a wedding gift. It might not be a bad idea to put these on your registry if you're getting married!
8. Check Social Media
Follow your favorite airlines on social media. Often, they'll offer bonus miles for liking a post or run contests to earn free flights that you can enter with the click of a button. We don't recommend spending hours of your life entering contests you may never win, but if you're already on Facebook and the contest takes two seconds, why not? You never know when an opportunity will pop up to earn free flights.
Many airlines are on Twitter, Facebook, and Instagram. Twitter is a fantastic spot to find deals and work out issues you're having. Oddly, companies reply much faster on Twitter than traditional means of getting in touch, like email or phone. Here's a quick list of the Twitter handles of some of the biggest domestic airlines to get you started:
Southwest Airlines – @SouthwestAir
United – @United
Alaska Airlines – @AlaskaAir
Frontier Airlines – @FlyFrontier
Virgin Atlantic – @VirginAtlantic
Virgin America – @VirginAmerica
Delta – @Delta
American Airlines – @AmericanAir
JetBlue – @JetBlue
9. Travel for Medical Reasons
While this may only apply to some, you can travel for free if you need to go somewhere for medical reasons. For example, Southwest Airlines has a Medical Transportation Grant program designed to offer free flights to those who need to travel for medical reasons and their caregivers.
Southwest Airlines recently announced that it had donated 7,500 roundtrip tickets for folks requiring life-changing medical procedures or specialized medical care. Southwest has partnered with over 75 non-profit hospitals and medical transportation groups across the country to ease the financial burden of traveling for health care. The airline has donated almost $39 million in transportation to over 96,000 patients and caregivers. It's useful to know that there are free flights for medical reasons if you need to explore this option.
Bottom Line
The most crucial step is to get into the habit of using your credit card for all your purchases. With the list above, you can decide which credit card suits your lifestyle when maximizing your points. The goal is to automate all of your bills to your credit card and to use your card for your regular purchases.
It's not always the most exciting or convenient process, but there are some pretty simple ways to earn free flights by maximizing the purchases that you're already making. My advice is to start with a credit card that earns you miles at an accelerated pace based on your spending habits, then look into other options like dining rewards and frequent flier miles. Then, with a little strategy and devotion, you may never have to pay for a flight again.