Editorial Note: We earn a commission from partner links on Doughroller. Commissions do not affect our authors' or editors' opinions or evaluations. Learn more here.
The holy grail of cash-back rewards cards are those that pay two percent on all purchases. We're not talking about rotating categories, like the 5% cards. And we aren't talking about rewards that are capped (5% rotating category cards cap the rewards you can earn). We are talking about true 2% cash-back credit card offers.
I use just such a card virtually every day, but I knew that there were others. So I did some research, and my findings are below. One key thing to keep in mind is that with all cards that pay two percent cash back, points or miles, there is always a catch. As an example, the card I use (listed first below) pays 2%, but only if you use the rewards for travel.
Best 2% Cash Back Credit Cards
Capital One Venture Rewards Credit Card
The card_name is my primary credit card. I also use the business card version, called the Capital One Spark Miles for Business. With this card, you'll earn .
If, however, you use the miles for anything other than travel, the miles are worth half that. My family and I travel enough to use all of our miles on travel. And now, the Capital One Venture Rewards Credit Card is has a terrific sign-up bonus. .
The beauty of this card is how you use the miles. We book travel through various services and pay with our Venture card. Once the charges hit our account, we just log into Capital One and redeem miles to pay for the travel.
Capital One lists those charges that qualify as travel, and paying for them with miles is as easy as selecting a check box. We've paid for everything from airfare and hotels to car rentals.
Alliant Cashback Visa® Signature Credit Card
You're not going to find a cash-back credit card with a higher everyday rewards program than with the Alliant Cashback Visa® Signature Credit Card. Simply impossible. This card offers cardholders a flat cash-back rate of 2.5% on every purchase. If that isn't reason enough to own this credit card it also carries a low 3% cash advance fee and doesn't charge any foreign transaction fees.
The one immediate drawback to owning the Alliant Cashback Visa® Signature Credit Card is the $99 annual fee, but there's no annual fee for year #1.
The catch is that you must be a member of the Alliant Credit Union to be approved for this credit card. While that may sound difficult, it's actually quite simple. Here are the ways in which to join:
Anyone who is willing to make a one-time $10 donation to the Foster Care to Success charity group.
An employee or retiree of a Qualifying Company.
A member of a Qualifying Organization.
An immediate family member of an existing Alliant member.
Anyone that lives or works in a Qualifying Chicagoland Community.
Citi® Double Cash Card - 18 month BT offer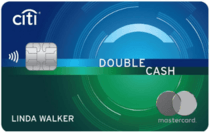 One of the few no-nonsense 2% cash-back credit cards available today, the Citi® Double Cash Card - 18 month BT offer has a great cash-back program.
Earn 2% on every purchase with unlimited 1% cash back when you buy, plus an additional 1% as you pay for those purchases.
. Unfortunately, balance transfers do not count toward your cash-back rates. There is no annual fee.
The Citi® Double Cash Card - 18 month BT offer has no cash back limit and it has no tier levels to reach. Every purchase you make is counted the same way and earns the same rate of cash back. Citi also has a pretty cool feature called Price Rewind. When you make a purchase using any Citi-eligible card (like the Citi® Double Cash Card - 18 month BT offer), they'll shop around for the same product. If they (or you) can find the product you purchased cheaper, you might be refunded the difference in price.
Finally, you'll also have access to Citi Price Pass. This feature provides you the opportunity to purchase hard-to-find tickets to thousands of different events, worldwide.
Fidelity® Rewards Visa Signature® Card
The Fidelity® Rewards Visa Signature® Card offers card members a flat 2% cash-back rate in the form of rewards points. Points never expire and there's never a limit on how many you can earn. The rewards are deposited into your Fidelity account, which is required to get the card. Six different Fidelity accounts are eligible to own the Fidelity® Rewards Visa Signature® Card and they are:
Brokerage account
Fidelity® Cash Management Account
Fidelity-managed 529 College Savings Plan
Retirement account
Fidelity Go® account
Fidelity Charitable® Giving Account®
There is no annual fee to own the Fidelity® Rewards Visa Signature® Card. There are also minimum perks beyond the 2% cash-back rate; but what else are you looking for in a great cash-back credit card?
If you know of other cards that pay as much or more in rewards on all purchases, leave a comment below.