Editorial Note: We earn a commission from partner links on Doughroller. Commissions do not affect our authors' or editors' opinions or evaluations. Learn more here.
In the recent podcast on How to Track All 3 of Your Credit Scores, I mentioned that I would have a follow-up article that tracked all the cards that offer free credit scores – whether it's an official FICO score or not – and the credit bureau the data are drawn from.
Here is the promised article, and I'm including the list of credit cards offering credit scores and additional information about each offer.
Related: Already know your credit score? Check out the best rewards cards for Excellent, Good, Fair, Poor, or No credit.
American Express
American Express gives you free access to your FICO score based on the FICO 8 formula. I've carried an Amex card for decades and recently pulled my FICO score from the Amex website. Here are some of the details:
Here is one of my favorite cards from American Express:
Blue Cash Preferred® Card from American Express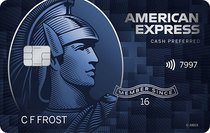 The card_name is another top-rated credit card. The list of benefits is rather long and my favorite has to be it's cash back rewards program. Cardholders will earn
6% Cash Back at U.S. supermarkets on up to $6,000 per year in purchases (then 1%). 6% Cash Back on select U.S. streaming subscriptions. 3% Cash Back at U.S. gas stations and on transit (including taxis/rideshare, parking, tolls, trains, buses and more). 1% Cash Back on other purchases.
Another great perk of the Blue Cash Preferred® Card from American Express is the welcome bonus.
Earn a $250 statement credit after you spend $3,000 in purchases on your new Card within the first 6 months.
Big cash back program / big up front bonus but there is a draw back to note. The annual fee is $0 intro annual fee for the first year, then $95.
Most of my credit card purchases are with the Blue Cash Preferred® Card from American Express.
Capital One
Capital One provides a non-FICO score, called CreditWise. The score is calculated based on the TransUnion VantageScore 3.0 model. Customers can, of course, access their scores through this system. But now, so can non-Capital One customers.
CreditWise is available online and through a mobile phone app. You can sign up for the app even if you aren't a customer, and the score will remain free.
The service offers the following features:
Credit Simulator – This tool estimates how future credit behavior could impact your Credit Tracker score. For example, you can determine how a 30-day late payment on a mortgage might affect your score – or going 12 months without one. It can also help you find the best way to improve your credit score by estimating the impact of positive behaviors like making payments on time or paying off credit card debt. Unlike some other credit simulators, this tool will actually let you account for multiple behaviors at once, including taking out a mortgage, paying down debt, letting an account go delinquent, or even paying child support.
Credit Alerts – You can receive alerts for factors that affect your score, including a new inquiry, recently opened account, delinquent account, improved account, or bankrupt account. The alerts go out when your Trans Union credit report changes.
Grade Overview – This feature enables you to see the major factors that are affecting your credit score.
Capital One offers several great card options. Here are three of the best, in my opinion (I carry the first one).
Capital One Venture Rewards Credit Card
The card_name pays out
2 Miles per dollar on every purchase, every day. 5 Miles per dollar on hotels and rental cars booked through Capital One Travel.
I've found it very easy to redeem miles for travel purchases charged to the card. And there are no blackout dates or other restrictions.
The biggest selling point for the Capital One Venture Rewards Credit Card is it's signup bonus.
Enjoy a one-time bonus of 75,000 Miles once you spend $4,000 on purchases within 3 months from account opening
. This card does have a $95 annual fee.
Capital One Quicksilver Cash Rewards Credit Card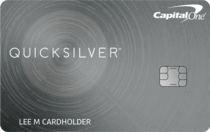 The card_name is an excellent cash back rewards option. You earn
1.5 % Cash Back on every purchase, every day. 5 % Cash Back on hotels and rental cars booked through Capital One Travel (terms apply).
.
This card also comes with a solid introductory APR:
0% intro on purchases and balance transfers for 15 months. After the intro rate expires, the everyday APR becomes 19.99% - 29.99%.
The Capital One Quicksilver Cash Rewards Credit Card has a $0 annual fee and charges no foreign transaction fees.
Capital One Platinum Credit Card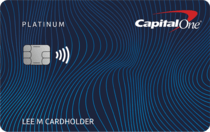 Finally, the card_name is ideal for those trying to build their credit. While there are no rewards with this card, it's easier to qualify if you have limited credit. And it gives you access to your credit score and tools to help you improve that score.
Capital One is best for: Improving or building your credit score using Credit Wise tools.
Credit One
Credit One Bank® Visa® with Free Credit Score Access
Credit One Bank® Visa® with Free Credit Score Access gives you the ability to view your Experian credit score and credit report summary online, and at no additional cost to you. What's more, the card is available for those with poor credit. That's mostly people who are either looking to rebuild their current credit or building from the ground up.
Apart from access to your Experian credit score, the card also comes with the following list of benefits:
Earn cash back rewards on eligible purchases
Automatically earn more cash back rewards using the card at participating merchants
Zero fraud liability for unauthorized charges
Regular account reviews for credit line increases
You can make purchases securely using Apple Pay
The annual fee is based on your creditworthiness. The first-year fee will be immediately charged against your credit limit. For example, if you receive the minimum credit line of $300, the $99 annual fee will be charged immediately, lowering your remaining credit limit to $201.
In subsequent years, the annual fee will change once again depending on your creditworthiness. If you qualify, the annual fee for subsequent years will be prorated and billed on a monthly basis. That will leave your credit limit largely intact.
Since the card is designed for those with fair or no credit, you'll start out with a low credit limit. But as you make your payments on time, you'll be eligible for periodic reviews to increase that limit.
Lower rates and fees will apply if you are covered under the Military Lending Act.
Credit One Bank® Visa® with Free Credit Score Access is best for: Anyone looking to have access to their credit score on a regular basis, who might be either rebuilding their credit or building it from the ground up. It's the perfect choice for anyone who has fair or even no credit and wants an unsecured credit card.
Barclaycard
Barclaycard provides FICO scores to its cardholder customers on its website. The score is based on your TransUnion file.
It also provides email alerts, letting you know when your score changes. The alerts list the two main factors that have caused the score change. The service also provides a historical chart that tracks the movements in your score, once you have a three-month history in the program. There is no charge for this service and no attempts at up-selling you into other programs.
The email alerts, historical tracking, and the fact that Barclaycard provides you with your actual FICO score are major advantages with this program. Many other free credit score sources, whether they are provided by credit card issuers or other sources, give you a parallel score rather than the actual FICO that is used by most banks for lending and mortgage purposes.
Barclays is best for: Accessing your FICO score on Barclay's website, monitoring your score via email alerts, and tracking movement in your score.
Commerce Bank
Commerce Bank customers can now access their FICO scores on their monthly credit card statements. The score is automatically reported on each statement and includes a list of score factors and options for improving your score. Plus, you can see how your current score might impact interest rates and other credit terms.
Commerce Bank is best for Receiving your FICO score on your monthly credit card statement plus a list of factors that affect it and tips for improving your score.
First Bankcard
First Bankcard through First National Bank offers FICO scores to its cardholders and you can view it online. They use the FICO 8 Bankcard Score, which is the score the bank purchases monthly to keep track of customers' creditworthiness. Like other credit card credit score providers on this list, First Bankcard also provides you with the main factors that determine your score.
First Bankcard is best for: Checking your FICO score online and learning the main factors that affect it.
USAA Bank
As of late 2015, USAA started offering members, not just credit cardholders, access to their free credit score. The CreditCheck & ID Monitor solution from USAA comes in several different levels.
The basic level, CreditCheck 1, offers daily credit monitoring through Experian, updates, and alerts about changes in your credit score, and access to your credit score and historical scores. The credit score provided at this level is the Experian VantageScore 3.
At the paid levels, customers can access additional benefits like twice-monthly credit score checks, reports from the other credit reporting bureaus, and identity protection alerts.
USAA Bank is best for Daily credit monitoring through Experian plus updates and alerts for your VantageScore 3.
US Bank
US Bank provides its cardholders with their credit score as provided by Experian directly from the Experian website. Its service is called CreditManager Plus. The scores are available for free to US Bank cardholders, and you simply need to log into your US Bank account and click on a link on the right side of your statement that says, "Know your credit score? Check it free."
US Bank is best for: Checking your Experian score online.
Credit Cards That Offer Free Credit Scores
Credit Card
Score Type
Details
Barclaycard
FICO
1. Email Alerts.
2. Two main credit score factors
3. Historical Tracking Charts
Capital One
Credit Tracker (based on Transunion New Account Model)
1. Online and Mobile App
2. Credit Simulator Tool (measure future behavior)
3. Credit Alerts, including specific reasons for the alert.
4. Grade Overview, telling you the top reasons for your score.
Discover
TransUnion FICO
Available on the monthly statements and online. Score, plus top two factors.
First Bankcard
FICO 8 Bankcard Score
Available online. Reports top two factors in determining your scores.
US Bank
Experian, presumably FICO
Service is provided directly by Experian, which is one of the three major credit repositories.
Bonus: Ally Bank
Ally Bank offers free FICO scores to its auto loan customers.
Bottom Line
These are the 12 major credit card issuers (plus an auto lender!) currently offering free credit scores to their customers. I wouldn't be surprised if more credit card companies jump on board, as this is now becoming a "standard issue" benefit in the credit card world.
At any rate, many of these companies offer great credit cards that are worth having, anyway. So if you need to keep better track of your FICO score, consider doing it for free using a card from one of these companies.
Know of another credit card company or lender offering access to free credit cards? Let us know in the comments.