Editorial Note: We earn a commission from partner links on Doughroller. Commissions do not affect our authors' or editors' opinions or evaluations. Learn more here.
Traveling often may seem like a dream that's out of reach. After all, staying in a hotel is expensive. And between airline tickets and accommodations, you could easily pay several thousands of dollars for even a short trip overseas. It seems like it would take years to save for this kind of trip.
But, it is possible to do it for a very low price if you know how to use loyalty rewards programs. We talk about airline rewards elsewhere on our blog. But here, we'll focus on specific ways to nab a free hotel stay on your next domestic or international trip.
1. Hotel Loyalty Programs
The most obvious way to earn free hotel stays is to join a hotel chain's loyalty program. Every major hotel chain has one. If you prefer one over another or if you just find yourself booking most of your hotel stays with one chain, signing up for their loyalty program is a no-brainer.
With most loyalty programs, you'll rack up points for each stay that you pay for. And then you can redeem those points for free nights at the hotel chain. These loyalty programs also give you additional perks. For instance, just joining the loyalty program could get you perks like free wi-fi or premium gym access. And as you rack up points, you move up through the loyalty program's tiers, which give you access to even more perks and upgrades.
One great thing about these rewards programs is that you can often use them even when you're traveling for business. When I travel for business, the expenses go on my company credit card. So I don't get those credit card points. But if I book consistently with the same hotel chain using my loyalty program login, I do still get the hotel loyalty points. Unless your company's policy says otherwise, this is a great way to store up points for later vacations and personal travel.
2. Hotel Rewards Cards
Although hotel loyalty programs are an excellent way to earn free hotel stays, the way you enroll makes a difference in how many points you earn. To get the most points, the best way to sign up is through a hotel rewards credit card. By applying for a co-branded hotel rewards card, you can rake in a gigantic haul of points just for becoming a member. Here are some of our favorites:
IHG One Rewards Premier Credit Card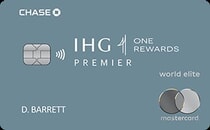 Earn up to 26 points total per $1 spent when you stay at IHG Hotels & Resorts. Earn 5 points per $1 spent on purchases on travel, at gas stations, and restaurants. Earn 3 points per $1 spent on all other purchases.
And the card earns a free one-night hotel stay every year on your anniversary date.
The annual fee for the card_name is $99.
World of Hyatt Credit Card
This card gives you 30,000 bonus points if you spend $3,000 in the first three months of card membership. Plus you can earn up to 30,000 more Bonus Points by earning 2 Bonus Points total per $1 spent in the first 6 months from account opening on purchases that normally earn 1 Bonus Point, on up to $15,000 spent.
Nine points are earned per dollar spent at Hyatt hotels, two points are earned per dollar spent at restaurants on travel (direct purchase w/ airline) and on fitness memberships.
Free nights at Hyatt hotels start at just 5,000 points. There are no foreign transaction fees but there is a annual fee.
Hilton Honors American Express Card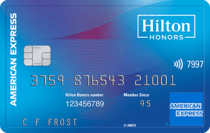 Here's another card with a big welcome bonus:
Earn 80,000 Hilton Honors Bonus Points after you spend $1,000 in purchases on the Card in the first 3 months of Card Membership.
Here's a look at the rewards of the card_name:
Earn 7X Hilton Honors Bonus Points for each dollar of eligible purchases charged directly with hotels and resorts within the Hilton portfolio. Earn 5X Hilton Honors Bonus Points for each dollar of eligible purchases at U.S. restaurants, at U.S. supermarkets, and at U.S. gas stations. Earn 3X Hilton Honors Bonus Points for all other eligible purchases on your Card.
If you're already in the market for a new credit card, one of these might be right up your alley. Again, though, be sure that the hotels involved are ones that you would prefer to stay in, anyway. And if you want to travel internationally, be sure that the hotel has a portfolio in the countries you're interested in seeing.
3. Cash Back Cards
Cash back cards are great because they provide so much flexibility. If you aren't familiar with cash back cards, they are just what they sound like. Every time you spend on your card, you earn cash back. The cool thing is that you can spend this money on anything you like.
These cards don't directly net you free hotel nights like the hotel-centric cards above. But you can always count any cash back you earn as vacation money that you can spend on hotels. Many cash back cards are available to consumers with average credit, unlike some of the hotel cards listed above, which are usually for those with excellent credit.
Cash back cards are also nice in that they tend to favor everyday purchases versus hotel purchases. If you aren't already staying in hotels often (because you need to save up points for free stays, of course!), earning points on hotel and travel cards can be tough. But cash back cards give you points for the spending you do every day–like groceries, gas, and restaurant purchases.
Blue Cash Preferred® Card from American Express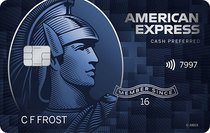 The card_name offers excellent everyday cash back:
6% Cash Back at U.S. supermarkets on up to $6,000 per year in purchases (then 1%). 6% Cash Back on select U.S. streaming subscriptions. 3% Cash Back at U.S. gas stations and on transit (including taxis/rideshare, parking, tolls, trains, buses and more). 1% Cash Back on other purchases.
The card also has a decent annual fee of $0 intro annual fee for the first year, then $95. Plus a welcome offer:
Earn a $250 statement credit after you spend $3,000 in purchases on your new Card within the first 6 months.
See Rates & Fees.
4. Flexible Rewards Cards
Flexible rewards cards are another way to earn free hotel stays. By far the best personal card in this category–and possibly the best rewards card, period–is the card_name.
Chase Sapphire Preferred® Card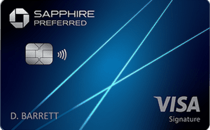 If you only want one credit card in your wallet, it should be this one if you're considering using rewards to make travel cheaper. Right now, you can get:
Enjoy benefits such as 5x on travel purchased through Chase Ultimate Rewards®, 3x on dining, and 2x on all other travel purchases, and $50 annual Ultimate Rewards Hotel Credit, plus more.
With this card, rewards are worth 25% more when you redeem them for travel through Chase. You can also redeem points for cash back but you won't get that 25% boost in value. Or you can transfer them to a travel partner. For example, transferring the points to your hotel chain's rewards account could increase their value (depending on the program). So this card is a great way to get flexible rewards that you can use on all of your travel needs, including hotel stays. There is an annual fee of $95, but if you travel regularly, or even occasionally, it can be worth it.
5. Combining Credit Cards
If you really want to make the most of your rewards programs and credit cards, the best option is to combine them so you're always maximizing the points you can get for your spending. To do this, you'll want to lay out all of your credit cards' rewards programs on paper. See which ones reward your spending in particular categories, and then use those cards to gain the most points on your purchases.
So you'll probably want to book any hotel stays with your hotel-branded credit card, as these will offer the best points for those hotels. But if you have one card that offers 5 points per dollar spent on groceries, use that card for groceries. Then use a gas-centric card for your spending at the pump.
Combining your credit card spending in this way–while being sure to pay off the balance in full each month–can help you get more points for every dollar you spend. Which you can then turn into free hotel stays and more.
6. Using Your Points Strategically
When you're choosing the rewards program you'll use, be sure to pay attention to the little extras. For instance, when you book a 4-night stay with any SPG hotel using rewards points or cash, you can get the fifth night for free. Some other hotel chains offer this free night option, as well. So whether or not you're paying for all of your vacation nights in points, you can extend your vacation without paying any more.
7. Use Booking Site Points
If your goal is always to get the cheapest hotel stay rather than to remain brand-loyal, book consistently through a site like Expedia. These travel booking sites have their own rewards programs, too. You can use points earned through your favorite booking site to get free hotel nights and other travel credits.
Of course, you'll want to weigh this with the potential benefits of being a loyal customer for a single hotel chain. Look into the different programs, figure out where you want to travel, and then decide if you're better off using an aggregated booking site and its rewards program or sticking with one chain that you really love.
8. Work for a Hotel
Most hotel chains give their employees discounts on hotel stays within their chain. If you're looking for a side gig, you might see if local hotels have part-time jobs that come with some perks like these. It's not for everyone, but if you really love to travel, your side gig could both fund your travel and give you discounts on places to stay when you do it.
If you really want to travel, land a job with Marriott and stay for 25 years. Then you can join the hotel's Quarter Century Club, which comes with free weekend hotel stays for life.
Bottom Line – Be Smart
Of course, earning rewards points doesn't mean anything if you're overspending and paying a lot of interest. You'll also want to pay attention to the annual fees for each credit card you use. Look carefully to ensure that you're actually well out-earning that annual fee. If you're not using the card enough to out-earn the fee, kick it to the curb.
Most importantly, be sure you're spending within your budget and paying off your cards in full each month. Otherwise, you'll have trouble saving up for travel, even if you are amassing tons of rewards points. Travel safely and spend wisely. Your next trip awaits!